Phulkari - The dyeing embroidery of Punjab
The term "Phulkari" refers to Punjabi traditional needlework. Although it refers to flowers, the designs also feature geometrical patterns, which consist of flowers (phul) and shapes (Akari). This style of clothing art is created on Kurtis, dupattas, stoles, sarees, salwar suits, and juttis. Handwoven Phulkari dupattas & Handwoven Phulkari sarees are some of the most famous forms of work that originate from Punjab.
Phulkari is a form of needlework that uses the most straightforward designs possible to produce a fascinating and embellished product that is adored not just in India but also across the world. The fact that it may be worn all year round places this design at the top of the list of other Indian handmade styles worldwide. Depending on the situation, the Phulkari Work can be altered.
 Origin
As early as the seventh century CE, phulkari work was famous throughout India, but it only persisted in Punjab. In addition to Phulkari, Kashida from Bihar and certain Rajasthani embroidery also include similar patterns. Another theory holds that this needlework design originated in Iran under the name Gulkari, which also means flower work.
In the well-known Waris Shah love story of Heer and Ranjha, Phulkari is mentioned. The popularity dates back to the reign of Maharaja Ranjit Singh in the fifteenth century. A woman's life included religious ceremonies, weddings, and births that all required the use of phulkari.
 Their lives were reflected in the embroideries, which also contained the things they saw. Every lady has her own method of identifying. Whatever its country of origin, Phulkari art is distinct and exclusively Punjabi.
The Fabric
Phulkari was traditionally made of heavy fabrics, notably khaddar, a heavy cotton fabric. Phulkari is nowadays being done on a variety of materials, including chiffon and lightweight cotton.
The Making of Phulkari
The Phulkari embroidery is created with colourful silken thread and a darn stitch on the back of khaddar, a coarse cotton fabric. The primary attribute of this kind of needlework is this.
 Phulkari embroidery used to be used on shawls and Odhani in the past solely. However, in modern times, sarees and churidar kameez are used as vast canvases for this needlework. The darning stitch, which is the most significant stitch in this Phulkari embroidery, is employed.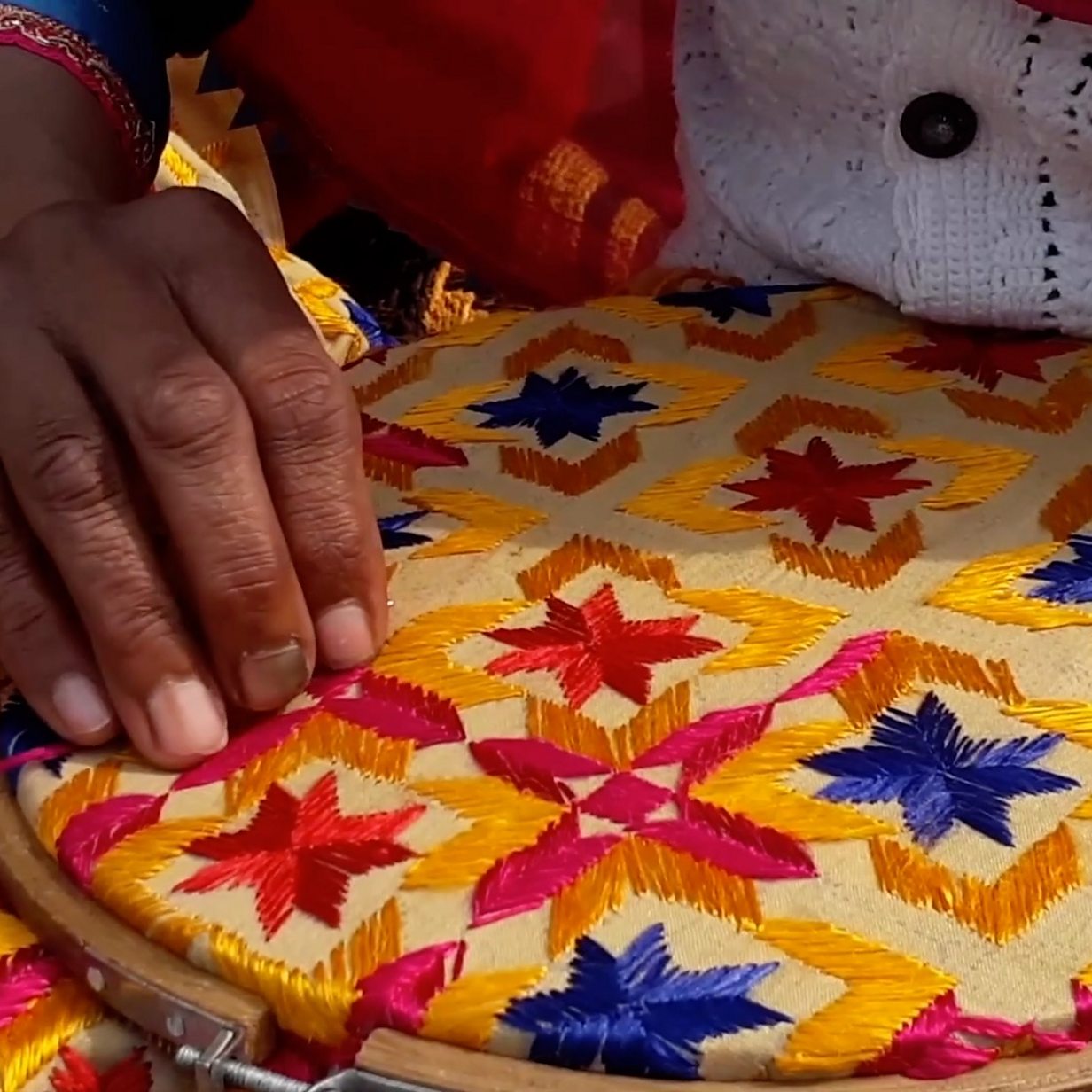 Many other stitches are employed, such as the running stitch, button stitch, and herringbone stitch. These stitches were used to border the khaddar or to make an attractive design. Typically, these patterns and motifs are stitched and stitched from the underside of the fabric, and the finer the thread, the more intricate the work becomes.
 The Fading Art of Phulkari
Migrating Indians were abruptly met with turmoil, uncertainty, and sectarian bloodshed despite coming from groups that had coexisted for decades. This was especially felt in Punjab, where vigilante squads engaged in rape, kidnapping, and murder at the hands of local leaders.
Millions of people were brutally murdered and uprooted as a result of the Partition of India, which sparked one of the largest human migrations in history. Due to the entire disruption of trade channels delivering the raw materials for the craft, phulkari production essentially stopped. The Partition events left the ladies who had previously performed phulkari needlework too traumatised to do so. Phulkari, prized treasures from earlier times and a symbol of brighter days, appeared to be gone forever. But not for very long. It quickly recovered and gained popularity. With commercialisation, more efficient production methods were developed. Today, depending on our preferences and financial constraints, we can buy both hand- and machine-made phulkari.
Types of Phulkari embroidery
The vivid and exquisite thread work with floral designs that comes to mind when we hear the word "phulkari" is ubiquitous. Phulkari is a form of aesthetic craftsmanship, although it encompasses much more than mere blossoms. It looks vibrant and exquisite because of the hand-embroidered patterns. This handmade item stands out because of the darn stitching technique applied on the fabric's reverse side.
 Sainchi- The SAINCHI motif shows rural life and features ploughing, harvesting, a water bearer, a burning hukkah, drinking, hawkers, and domestic activities like churning, spinning, and weaving. In other words, the entirety of village life is portrayed. The simple red and black khaddar veil is worn daily and referred to as (saloo).
Kata:  The needlework is thick and has a similar appearance on both ends. This kind of phulkari is meticulously crafted and has the same design on both sides.
Chope: Done on the borders; both sides have the same design. During a pre-wedding ceremony, the bride's grandma presents it to her. Typically, only one colour is used (golden or yellowish golden). It is carried out on rough khaddar and done primarily in Punjab's eastern regions.
Suber: At the time of Pheras at the wedding, the bride wears a Red-colored phulkari. Suber is very similar to Chope in terms of colour; it contains a centre five-group motif and a matching motif on each of the four corners. The maternal uncle also presents these Phulkari embroideries as presents for the bride-to-be. 
Tilak: As the name implies, it has blue phulkari. Worn by agricultural women, with yellow and crimson embroidery and also done in black on certain occasions. Items like a comb, fan, umbrella, rumal, and flowers are common motifs.
Til Patra: A sparsely stitched design that mimics sesame seeds scattered. Inferior, cheap khaddar worn by maids during weddings and other significant events, decorated with tiny dots.
Sheeshadar: Decorated with small circular mirrors on red. Brown or white ground. A speciality of south-eastern Punjab but now in Haryana is becoming rare and instinctive.
Thirma: The white khaddar is a distinctive feature of the Thirma. Widows and older women typically wear them. It represents purity.
Darshan Dwar: This particular Phulkari is a gift to the gods. It is intended to be donated to the Gurudwaras whenever a desire is granted. The name Darshan Dwar means "the portal to view God."
Compared to other Phulkari garments, some are significantly more costly. The fabric, method, and labour put into making it hold the key. Typically, hand-embroidered phulkaris are more expensive than machine-made versions. It takes a lot of time and patience, which is why.
 Additionally, hand-embroidered phulkari items are typically distinctive. It is impossible to duplicate a design exactly. Therefore every item produced will have some variances.
Today, this vivid style has been revived and is employed by top designers like Manish Malhotra on Kurtis, jackets, sarees, and bandhgalas in addition to shawls and odhnis. It has advanced from being a purely local art form to earning a spot in the couture collections of eminent fashion designers.
Leave a comment